A Change of Guard

Sunday, 21 December 2014
Real Camerin
, a firebrand politician and
Yorm Bopha
, a fierce land rights activist, got engaged today 20/12/14. Both have been jailed for their activism. What a great match. They will become a force to be reckoned with. Wish them all the best!!
ថ្ងៃទី២០ខែធ្នូឆ្នាំ២០១៤ នេះមកចូលរួមសិរីសួស្តីពិធីភ្ជាប់ពាក្យឯកឧត្តម រៀល ខេមរិន្ទ្រ និង លោកជំទាវ យ៉ោមបុប្ផា យើងខ្ញុំទាំងអស់គ្នាសូមប្រសិទ្ឋិពរជ័យសិរីសួស្តីកើតមានដល់ឯកឧត្តមនិងលោកជំទាវជារៀងរហូតតទៅហើយស្រលាញ់គ្នាដល់ចាស់
Saturday, 20 December 2014
Despite being technically illegal, cockfighting remains a common past-time in the Kingdom, with participants lured by the excitement, cash and glory
Standing around a dusty ring in Kampong Speu province, a hundred voices yell back and forth, haggling over bets and odds. Savvy gamblers, competing with the din of the crowd, lob questions at trainers as to their fighters' history and provenance.
The odds are finally set, the bets are laid, and the fighters – two bristling gamecocks – are dropped into the ring, where they clash in a storm of feathers and claws. With each slash of the sharp metal spurs attached to their heels, the crowd roars.
Though cockfighting was officially banned in 2009, the bettors at this fight had little to worry about – the matches, which took place last weekend, were hosted on the grounds of an Oudong district military base.
Cockfighting has a long tradition in Cambodia, dating to before the time of Jayavarman VII. Carvings on the wall of the 12th-century Bayon temple depict a scene that wouldn't be out of place today: two groups of men jostling for a better view as two handlers square their birds off in a ring.
The sport remains a common practice, despite being driven underground by the ban. Rarely a week goes by without news of an arena being busted and its unlucky patrons being made to thumbprint documents promising police never to fight again.
The Professional
Phearum*, a cockfighter from Kampong Speu, has a complicated relationship with the military base game. The stakes there are higher, of course – sometimes there's as much as $4,000 riding on his bird – but he also likes playing in small village games. Those games, however, can't afford police protection, and when they're busted – a common occurrence – cocks and motorbikes alike are impounded.
But Phearum suspects the officers aren't motivated by a sense of duty as much as a desire to channel cockfighters into the games from which they themselves profit.
"What they do is just for money," he said. "They said that the game is illegal, but in fact they just want us to stop playing in the village and to play in a casino or a big arena that's owned by soldiers and police."
Phearum fights two or three times a month, "but in the big place in Oudong, they fight every day because they pay money to local authorities, journalists and police."
For Phearum, cockfighting has been the family business since his grandfather's day, and even now it's a full-time job.
Every day he wakes before dawn, bathes his gamecocks in rice wine and takes them to watch the sunrise, which gives them strength, he said. He sponge-bathes the birds three times daily at their regular mealtimes. Their diets rotate every few days, but are always rich in meat and vegetables.
"Sometimes I don't have money to pay for my own food, but my cocks have to have good food, so I don't care about my food," he said. "I care more about my cocks' food."
FILE - A Cambodian girl, left, HIV-positive, sits with others who are affected with HIV AIDS hold candles during a vigil in Phnom Penh, Cambodia.
PHNOM PENH (The Cambodia Herald) -- head Buddhist monk, a novice and a layman are among those people who were infected with HIV/AIDS in Roka commune in Sangke district, Battambang province. 
Hundreds of villagers in Roka commune have flocked to have their blood tested since December 8. 
As of Wednesday this week, 775 villagers had their blood tested for the virus. 106 of them were confirmed to have been infected with HIV/AIDS. 
Cause of HIV outbreak has not been officially revealed so far though a physician who is suspected of spreading the virus was arrested for few days ago. 
Deputy Prime Minister Sar Kheng, along with Health Minister Mam Bunheng, visited the villagers in Roka commune today [Saturday], and appealed to them to stay calm. 
The Ministry of Health, with support from several international organizations have conducted investigation into a number of HIV cases which have occurred among villagers in Roka commune of northwest Cambodia's Battambang province.
In Battambang, the shells of two remaining pre-Khmer Rouge cinemas still hold treasures – and their names are Tes Saloan and Ta Koy
Seen from the street, Battambang's dirty yellow Golden Temple Cinema is a largely charmless husk of functional modernism. Inside, paint has faded, seats have crumbled and light falls patchily through the ceiling. There is rubbish strewn throughout, partially obscured by thick dust. But the man who lets us in is optimistic. "Have you come to shoot another film?" he asks.
The cinema has been abandoned for the past seven years. But it was given a new lease of life when it became a location for filming of The Last Reel last June. In the film – which had its Cambodian premiere earlier this month at the Cambodian International Film Festival – a young woman embarks on a quest to heal family wounds after wandering into an old cinema and chancing across the caretaker watching a film starring her mother.
In large part, it's a film about Cambodia's complicated love affair with cinema itself, and director Sotho Kulikar says that finding a location that could carry the weight of those memories was of the utmost importance. "The cinema itself is a central character in my story," she explains. "And as soon as I walked into this cinema, I felt so much history."
But you don't have to rely on crumbling paintwork to piece together the Golden Temple's past: its history lives on in the person of Tes Saloan, the man who carries the keys to the building and was once its projectionist. In an industry largely obliterated by the Khmer Rouge, the sprightly 61-year-old is a rarity – one of a small number of surviving cinema professionals who worked during the "golden age" of Cambodian film in the 1960s and 1970s.
Saloan was 16 when he was first taught to use the projection equipment. "I loved art and film, so I learned fast," he says. At the time, the Golden Temple was one of six cinemas in Battambang. Tickets were cheap, and his 500-seat auditorium was regularly packed, with audiences sitting spellbound by the strange monsters of Khmer legend on screen.
The cinema was closed when the Khmer Rouge took control of the country in 1975 but was reopened in the 1980s. For a while, it was used as a performing arts venue and then as a cinema again – this time with modern LCD technology – from the mid-'90s until it closed its doors for good in 2006 or 2007 (Saloan can't remember for sure). "I was not happy to lose this job, but no one was looking after the cinema and I can't preserve it myself," he says.
When Kulikar discovered Saloan's history, she hired him as part of the production team. "He never stopped smiling," she recalls. "And every morning he bought me a chicken egg from the countryside to give me strength." True to Kulikar's word, Saloan grins non-stop when talking about the experience of the shoot. "It's my hand you see in the film because the actor couldn't turn the old projector fast enough," he explains.
Of the six cinemas that once served Battambang, four have been demolished or converted. By a strange coincidence, the two still standing are both on Street 2. A short walk from the Golden Temple is its one time rival, the slightly smaller Battambang Cinema. Like Saloan, the cinema's projectionist has not strayed far from his former workplace. Seng Chamnan, known locally as Ta Koy, still lives in the adjacent house.
At Least 90 People Tested Positive for HIV in Village in Northwestern Cambodia
ENLARGE
PHNOM PENH, Cambodia — Concern is building over the number of people who appear to have been infected with HIV in a village in northwestern Cambodia, with health officials saying that at least 90 people have tested positive for the virus.
Medical teams from the World Health Organization and the Joint United Nations Program on HIV and AIDS, or UNAIDS, have traveled to Roka village, near Battambang, to examine the high number of cases.
An unlicensed doctor is being held in protective custody in the area for allegedly spreading HIV through the use of contaminated needles. The man, Yam Chin, couldn't immediately be reached for comment. Local officials said they are also investigating other possible causes for the mass infections.
The Pasteur Institute in the capital, Phnom Penh, on Friday said the confirmed number of infections had reached 90, while regional health officials say the number of infections has already surpassed 100. Prime Minister Hun Sen on Thursday appeared in a special television broadcast to announce what he described as a thorough investigation into the matter. Health officials urged people not to panic.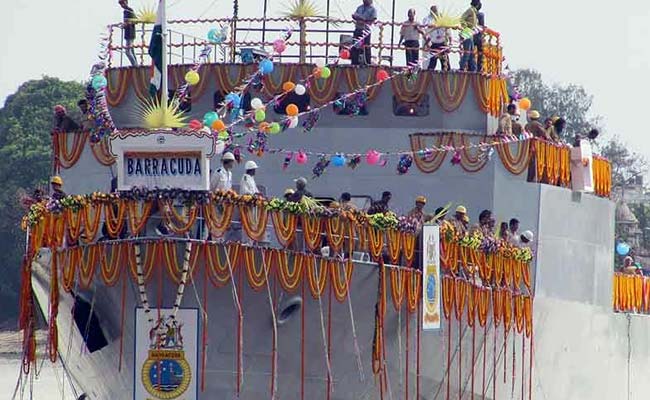 NEW DELHI: 
 India is all set to sell warships to Vietnam - a country locked in territorial with China. 
Garden Reach Ship Builders and Engineers or GRSE - a Kolkata-based Defence Public Sector unit - will supply warships to Vietnam. This will be the second export of warships for India. It is already selling a patrol ship - Coast Guard Ship Barracuda - to Mauritius at a cost of 
R

s.
 350 crores. (
Meet the Barracuda - the First Warship India Will Export
)
Besides, it is also in the race to export two light Frigates - about 3500 tons each at a total cost of 
R

s.
 2000 crore - to The Philippines.
The forays of the Indian Ship builder in the Indian Ocean and the disputed South China Sea are not mere commercial. The sale has strategic implications as well as the exports will spread Indian footprints across the region. Vietnam, the Philippines and four other countries are locked in a high decibel and international watched territorial dispute with China in the South China Sea. India has oil drilling blocks off the Coast of Vietnam and has ramped up military training including that of Submariners and Sukhoi-30 fighter pilots.
"The sale of at least four patrol vessels comes as part of the $100 million credit line for military extended to Vietnam by India," Rear Admiral AK Verma (retd) Chairman and Managing Director of GRSE said. 
PHNOM PENH (The Cambodia Herald) -- The proposed amendments on internal regulation of the National Assembly was adopted on Friday, paving the way for Sam Rainsy to become minority leader in the parliament. 

Article 48 of chapter 12 of the National Assembly's internal regulations was unanimously adopted by 102 lawmakers during the session. 

The minority leader who hold a rank equal to Prime Minister is a dialogue partner of Prime Minister to discuss national issues. 

"The adoption of the proposed amendments on internal regulation of the National Assembly is an implementation of political agreement on July 22 between Cambodian People's Party and Cambodia National Rescue Party," Sam Rainsy told reporters after the parliamentary session.

--------------------------------------------------------------------------

Cambodia parliament elevates opposition boss to shore up truce

By Prak Chan Thul

PHNOM PENH (Reuters) - Cambodia's parliament endorsed opposition leader Sam Rainsy on Friday as minority leader with legislative rank equal to Prime Minister Hun Sen, a rare concession by the long-serving premier to preserve a fragile political truce.

The arrangement is part of a deal struck in July to end the Cambodia National Rescue Party's (CNRP) parliamentary boycott and break a year of deadlock fraught with street protests, factory strikes and sporadic unrest resulting from a 2013 election the opposition said was rigged.

CNRP president Sam Rainsy said his stronger house role would foster a "new culture of dialogue" with Hun Sen, his long-time political nemesis.

"This is a very important political turning point," the French-educated Sam Rainsy told reporters after the parliamentary session.

"Before, the ruling party has always tried to get rid of the opposition party. The culture of getting rid of each other even led to some violence."
Read about court's attempt to arrest the bodyguard of Deputy Police Commissioner Chuon Narin for the murder of Oknha Ung Meng Cheu.
Watch a video and listen to the voice of Thong Sarath.

This man, captured on CCTV shooting Oknha Ung Meng Cheu and later on was seen coming to inspect the body of Ung Meng Cheu, is the bodyguard of Deputy Police Commissioner named Sok Monitra. Now his whereabouts and fate is unknown.
​ក្រោយ​កើត​មាន​អំពើ​ឃាតកម្ម​យ៉ាង​សាហាវព្រៃផ្សៃ​ និង​កក្រើក​រាជធានី​ភ្នំពេញ​ទៅ​លើ​លោក​ឧកញ៉ា​ អ៊ឹ​ង​ ម៉េ​ង​ជឺ​ ថៅកែ​ក្រុមហ៊ុន​ស៊ីម៉ងត៍​សញ្ញា​ត្បូង​ពេជ្រ​ កាលពី​រាត្រី​ថ្ងៃ​ទី​២២​ ខែវិច្ឆិកា​ ឆ្នាំ​២០១៤​ នៅ​មុខ​ហាង​លក់​ផ្លែ​ឈើ​យីហោ​ ឡោ​ តិច​សេង​ ឋិត​ក្នុងភូមិ​សាស្ត្រ​ខណ្ឌចំការមន​ រាជធានី​ភ្នំពេញ​រួច​មក​ រូបភាព​ខ្មាន់កាំភ្លើង​ជា​ឃាតក​ដៃដល់​ដែល​បាន​បាញ់​សម្លាប់​លោក​ឧកញ៉ា​ អ៊ឹ​ង​ ម៉េ​ង​ជឺ​ ចំ​គោលដៅ​ចំនួន​៦​គ្រាប់​ និង​រូបភាព​បុរស​ម្នាក់​ជា​មន្ត្រី​ប៉ូលិស​ និង​ជា​កូនចៅ​លោក​ឧត្តមសេនីយ៍​ ជួន​ ណា​រិ​ន​ ស្នងការ​រង​នគរបាល​រាជធានី​ភ្នំពេញ​ ទទួល​បន្ទុក​ផ្នែក​ព្រហ្មទណ្ឌ​ ដែល​មក​ចូលរួម​ពិនិត្យ​សាកសព​លោក​ឧកញ៉ា​ អ៊ឹ​ង​ ម៉េ​ង​ជឺ​ ជា​ជន​រង​គ្រោះ​ ត្រូវ​បាន​បង្ហាញ​តាម​រយៈ​កាមេរ៉ា​សុវត្ថិភាព​របស់​ហាង​លក់​ផ្លែ​ឈើ​យីហោ​ ឡោ​ តិច​សេង​ ធ្វើ​ឲ្យ​មជ្ឈដ្ឋាន​អ្នក​តាមដាន​សំណុំរឿង​ក្តី​ឃាតកម្ម​ដ៏​រសើប​នេះ​ ជា​ពិសេស​ក្រុម​អ្នកលេង​បណ្តាញ​ព័ត៌មាន​សង្គម​ Facebook​ ដ៏​ពេញ​និយម​នៅ​កម្ពុជា​ បាន​សម្តែង​នូវ​ការ​ចាប់អារម្មណ៍​ទៅ​លើ​ភិនភាគ​ និង​សកម្មភាព​ស្រ​ដៀង​គ្នា​ច្រើន​ចំណុច​របស់​បុរស​ជា​មន្ត្រី​ប៉ូលិស​ជា​កូនចៅ​របស់​លោកស្នងការ​រង​ ជួន​ ណា​រិ​ន​ ទៅ​នឹង​ខ្មាន់កាំភ្លើង​ជា​ឃាតក​ ហើយ​ក៏​មានការ​ដាក់​សង្ស័យ​ថា​ កូនចៅ​លោកស្នងការ​រង​ ជួន​ ណា​រិ​ន​ ជា​ឃាតក​បាញ់​សម្លាប់​លោក​ឧកញ៉ា​ អ៊ឹ​ង​ ម៉េ​ង​ជឺ​ និង​ទាមទារ​ឲ្យ​សមត្ថកិច្ច​ចាប់​ឃាត់ខ្លួន​បុរស​រូប​នោះ​ដើម្បី​សាកសួរ​ ប៉ុន្តែ​មិនឃើញ​មាន​ចំណាត់ការ​អ្វី​ឡើយ​ពី​សំណាក់​សមត្ថកិច្ច​ រហូត​ដល់​១១​ថ្ងៃក្រោយ​ក៏​លេច​ចេញ​ឈាន​ទៅ​ចាប់​ឃាត់ខ្លួន​ក្រុម​អង្គរក្ស​លោក​ឧត្តមសេនីយ៍​ឧកញ៉ា​ ថោ​ង​ សា​រ៉ាត់​ មានឈ្មោះ​ដើម​ជា​ភាសា​យួន​ថា​ "​ប៊ិ​ន​ ទឹង​"​ ដ៏​គួរ​ឲ្យ​ភ្ញាក់ផ្អើល​ ។​
​មជ្ឈដ្ឋាន​អ្នក​តាមដាន​សំណុំរឿង​ឃាតកម្ម​កក្រើក​រាជធានី​ភ្នំពេញ​នេះ​ បាន​លើក​ឡើង​ថា​ ភិនភាគ​និង​សកម្មភាព​របស់​បុរស​ជា​កូនចៅ​លោកស្នងការ​រង​ ជួន​ ណា​រិ​ន​ ដែល​គេ​ស្គាល់​ថា​ មានឈ្មោះ​ សុក​ ម៉ូ​នី​ត្រា​ ជា​អតីត​ប៉ូលិស​ខណ្ឌចំការមន​ មាន​រហស្សនាម​ បា​សាក់​៣៣៨​ ទើប​ផ្ទេរ​មក​កាន់​ផ្នែក​ព្រហ្មទណ្ឌ​នៅ​ស្នងការដ្ឋាន​នគរបាល​រាជធានី​ភ្នំពេញ​នោះ​ មាន​លក្ខណៈ​ស្រ​ដៀង​គ្នា​ច្រើន​ចំណុច​ទៅ​នឹង​ខ្មាន់កាំភ្លើង​ជា​ឃាតក​ បើ​តាម​ការ​បង្ហាញ​ទិន្នន័យ​ដោយ​កាមេរ៉ា​សុវត្ថិភាព​ រីឯ​ក្រុម​អ្នកលេង​ Facebook​ បាន​ទទូច​ទាមទារ​ឲ្យ​សមត្ថកិច្ច​ធ្វើការ​ចាប់​ឃាត់ខ្លួន​បុរស​ជា​កូនចៅ​លោកស្នងការ​រង​ ជួន​ ណា​រិ​ន​ នោះ​យក​មក​សាកសួរ​ ស្វែងរក​តម្រុយ​ក្នុង​សំណុំរឿង​ឃាតកម្ម​តាម​នីតិវិធី​នៃ​ច្បាប់​ ខណៈ​ផ្ទុយ​ពី​ការ​សង្ស័យ​នេះ​ លោកស្នងការ​រង​ ជួន​ ណា​រិ​ន​ បាន​បញ្ជាក់​អះអាង​ថា​ ភិនភាគ​ស្រ​ដៀង​គ្នា​នោះ​ គឺជា​រឿង​ចៃដន្យ​ ហើយ​ឈ្មោះ​ សុក​ ម៉ូ​នី​ត្រា​ មិនមែន​ជា​ឃាតក​បាញ់​សម្លាប់​លោក​ឧកញ៉ា​ អ៊ឹ​ង​ ម៉េ​ង​ជឺ​ ទេ​ ដ្បិត​នៅ​ពេល​កើតហេតុ​ មន្ត្រី​ប៉ូលិស​ជា​កូនចៅ​របស់​លោក​បាន​ឋិត​នៅ​ជិត​រូប​លោក​រហូត​ ។​
​ការ​មិន​ចាប់​ឃាត់ខ្លួន​បុរស​ជា​កូនចៅ​លោកស្នងការ​រង​ ជួន​ ណា​រិ​ន​ យក​មក​សាកសួរ​ពាក់ព័ន្ធ​នឹង​សំណុំរឿង​ឃាតកម្ម​លើ​លោក​ឧកញ៉ា​ អ៊ឹ​ង​ ម៉េ​ង​ជឺ​ នោះ​ ធ្វើ​ឲ្យ​មជ្ឈដ្ឋាន​អ្នកលេង​ Facebook​ ដ៏​ច្រើន​សម្តែង​នូវ​ការ​ខកចិត្ត​ និង​មិន​អស់ចិត្ត​ ។​
Virologist jointly credited with discovering HIV calls for calm 
By David Hutt and Dene Mullen
Françoise Barré-Sinoussi – credited along with her colleague Luc Montagnier as the discoverer of HIV – has said that Cambodian Prime Minister Hun Sen has been "misinformed", following his comments regarding an outbreak of the virus in Battambang province, in Cambodia's northwest.
A few days ago it emerged that more than 100 people from a district in Battambang had tested positive for HIV. A number of theories have been discussed as the reason for the outbreak, including malpractice by the local doctor, but when Prime Minister Hun Sen spoke to the press yesterday he cast doubt over the result's validity.
"Right now, 99%, I don't believe it's AIDS," Hun Sen was quoted as saying
in the Phnom Penh Post
, referring to AIDS instead of HIV. "They might have a virus, but it's not AIDS… Can an 80-year-old person get AIDS? And can young people who do not know anything get AIDS?"
"I don't know why he made those statements. My interpretation is that he has been badly misinformed," Françoise Barré-Sinoussi, who won the Nobel Prize in Physiology or Medicine in 2008, told Southeast Asia Globe on the phone from France.
Since Hun Sen's comments, various health agencies, including UNAIDS and the Institut Pasteur in Cambodia, have stated that there is little doubt over the tests' accuracy.
According to Barré-Sinoussi, for now, senior public figures should concentrate on reassuring the public. "We need the voice of both the prime minister and the king," she said. "They need to calm people, tell them that the authorities will investigate what happened and that victims will get the best possible treatment. They need to reassure the people."
Friday, 19 December 2014
អង្គការ​សង្គម​ស៊ីវិល ស្នើ​ឲ្យ​រដ្ឋាភិបាល​កម្ពុជា ប្ដឹង​ករណី​ទាហាន​ថៃ បាញ់​សម្លាប់​ពលរដ្ឋ​ខ្មែរ​ឆ្លង​ព្រំដែន​ខ្មែរ-ថៃ ទៅ​តុលាការ​ព្រហ្មទណ្ឌ​អន្តរជាតិ អាយ.ស៊ី.ស៊ី (ICC) ដើម្បី​បញ្ឈប់​ការ​បាញ់​សម្លាប់​នេះ​ទៅ​ថ្ងៃ​អនាគត។
មន្ត្រី​រដ្ឋាភិបាល​កម្ពុជា ឲ្យ​ដឹង​ថា ចាប់​តាំង​ពី​ខែ​មករា រហូត​ដល់​ខែ​ធ្នូ ឆ្នាំ​២០១៤ នេះ ទាហាន​ថៃ បាន​បាញ់​សម្លាប់​ពលរដ្ឋ​ខ្មែរ​ចំនួន ៥​នាក់។
ប្រធាន​ផ្នែក​អង្កេត​សមាគម​អាដហុក (adhoc) លោក នី ចរិយា ស្នើ​ឲ្យ​រដ្ឋាភិបាល​កម្ពុជា អនុវត្ត​គោលការណ៍​ច្បាប់​អន្តរជាតិ ដើម្បី​ផ្តល់​យុត្តិធម៌​ដល់​ជន​រងគ្រោះ​កម្ពុជា ដែល​ទាហាន​ថៃ បាញ់​សម្លាប់​ជា​បន្តបន្ទាប់​នោះ។ លោក​បន្ត​ថា កម្ពុជា ជា​ប្រទេស​សមាជិក​តុលាការ​ព្រហ្មទណ្ឌ​អន្តរជាតិ ដូច្នោះ កម្ពុជា អាច​ប្រើប្រាស់​យន្តការ​នេះ​ទាមទារ​ឲ្យ​តុលាការ​កាត់​ទោស​ទាហាន​ថៃ ពី​បទ​ឧក្រិដ្ឋកម្ម​ប្រឆាំង​នឹង​មនុស្ស​ជាតិ។
លោក នី ចរិយា៖ «កម្ពុជា យើង​មិន​ព្រម​អនុវត្ត​យន្តការ​អន្តរជាតិ ដោយសារ​តែ​កម្ពុជា ជា​ប្រទេស​សមាជិក​តុលាការ​ព្រហ្មទណ្ឌ​អន្តរជាតិ។ យើង​ឃើញ​ថា អ្វី​ដែល​ថៃ បាញ់​មក​លើ​ពលរដ្ឋ​កម្ពុជា អាច​ជា​ឧក្រិដ្ឋកម្ម​ប្រឆាំង​នឹង​មនុស្ស​ជាតិ គឺ​ដោយសារ​តែ​ឆ្លង​ដែន​បាញ់​ស្រេច​តែ​ចិត្ត​ទៅ​គ្មាន​ចាត់​វិធានការ​អ្វី​ទាល់​តែ​សោះ»។
សំណើ​របស់ លោក នី ចរិយា ធ្វើ​ឡើង​បន្ទាប់​ពី​ក្រសួង​ការ​បរទេស​កម្ពុជា ផ្ញើ​លិខិត​តវ៉ា​ការទូត​ទៅ​កាន់​ស្ថានទូត​ថៃ ប្រចាំ​នៅ​ប្រទេស​កម្ពុជា ប្រឆាំង​ដាច់​ខាត​នូវ​អំពើ​ឃោរឃៅ និង​អមនុស្សធម៌​របស់​ក្រុម​ទាហាន​ថៃ ដែល​បាញ់​សម្លាប់​ស្ត្រី​ខ្មែរ​ម្នាក់​ក្នុង​ខេត្ត​ឧត្តរមានជ័យ កាល​ពី​ថ្ងៃ​ទី​៩ ខែ​ធ្នូ ខណៈ​ជន​រងគ្រោះ​ឆ្លង​ដែន​ចូល​ក្នុង​ទឹក​ដី​ថៃ ដើម្បី​ដក​ដំឡូង និង​រើស​ផ្សិត ដោយ​មិន​ដឹង​ថា ខ្លួន​បាន​ឆ្លង​ខ្សែ​បន្ទាត់​ព្រំដែន។ បួន​ថ្ងៃ​ក្រោយ​មក ទាហាន​ការពារ​ព្រំដែន​ថៃ ខេត្ត​សុរិន្ទ បាន​បញ្ជូន​សាកសព​ស្ត្រី​ខ្មែរ​រងគ្រោះ​រូប​នោះ​ត្រឡប់​មក​ឱ្យ​ក្រុម​គ្រួសារ​វិញ ក្នុង​ក្រុង​សំរោង នៃ​ខេត្ត​ឧត្តរមានជ័យ។
ក្រសួង​ការ​បរទេស​កម្ពុជា ទាមទារ​ឲ្យ​សមត្ថកិច្ច​ប្រទេស​ថៃ បើក​ការ​ស៊ើប​អង្កេត​ឲ្យ​បាន​ស៊ី​ជម្រៅ​អំពី​ករណី​នេះ ដើម្បី​នាំ​ខ្លួន​ជន​ដៃ​ដល់​មក​ផ្ដន្ទាទោស​តាម​ផ្លូវ​ច្បាប់។ រដ្ឋាភិបាល​កម្ពុជា ក៏​ទទូច​ឲ្យ​អាជ្ញាធរ​ថៃ បញ្ឈប់​សកម្មភាព​ព្រៃផ្សៃ​ប្រឆាំង​នឹង​ពលរដ្ឋ​ខ្មែរ​ស្លូត​ត្រង់ ហើយ​គោរព​នូវ​កិច្ច​ព្រមព្រៀង​នៃ​មេ​ដឹក​នាំ​ប្រទេស​ទាំង​ពីរ បញ្ឈប់​បាញ់​សម្លាប់​ពលរដ្ឋ​ខ្មែរ​ឆ្លង​ដែន​ខុស​ច្បាប់​កាល​ពី​ពេល​ថ្មីៗ​នេះ។
លោក នី ចរិយា បន្ត​ថា នៅ​ពេល​កម្ពុជា ប្ដឹង​ទៅ​តុលាការ​អន្តរជាតិ​ហើយ​នោះ មូលហេតុ​នៃ​ការ​បាញ់​សម្លាប់​ពលរដ្ឋ​ខ្មែរ​នៅ​តាម​ព្រំដែន​ខ្មែរ-ថៃ នឹង​ត្រូវ​បង្ហាញ​ជា​ការ​ពិត៖ «ហើយ​ប្រសិន​បើ​ជា​ថៃ មិន​ព្រម​នឹង​បង្ហាញ​ឆន្ទៈ​របស់​ថៃ ក្នុង​ន័យ​រើសអើង​ប្រកាន់​ពូជសាសន៍​សម្លាប់​ហ្នឹង។ សម្លាប់​ដោយ​រើសអើង»។
ថ្ងៃ ពុធ ទី ១៧ ខែ ធ្នូ ឆ្នាំ ២០១៤ ម៉ោង ០៧:៥៧
ភ្នំពេញ: លោក សម រង្ស៊ី ប្រធាន​គណបក្ស​សង្គ្រោះ​ជាតិ បានប្រកាស​នៅក្នុង​ស្និសីទកាសែត​កាលពី​រសៀល​ថ្ងៃទី​១៦ ខែធ្នូ ថា ហ្វេ​ស​ប៊ុ​ក (​បណ្តាញ​សង្គម​) របស់គាត់ មាន​អ្នកគាំទ្រ​ចូលចិត្ត​និង​តាមដាន​ព័ត៌មាន​មាន ១​លាន​នាក់ គិត​ត្រឹម​យប់​ថ្ងៃទី​១៤ ខែធ្នូ ឆ្នាំ​២០១៤​។ ជាមួយនឹង​ការប្រកាស​ពី​ចំនួន​អ្នកគាំទ្រ​ហ្វេ​ស​ប៊ុ​ក លោក​សម រង្ស៊ី ក៏បាន​ធ្វើ​ពិធីជប់លៀង​អបអរសាទរ ចំពោះ​ការគាំទ្រ​នេះ ហើយ​ប្រកាស​ឲ្យ​ប្រជាពលរដ្ឋ ទិញ​ភាគហ៊ុន​របស់​ទូរទស្សន៍​សង្គ្រោះ​ជាតិ​។​
​លោក​សម រង្ស៊ី បាន​បង្កើត​ហ្វេ​ស​ប៊ុ​ក នៅ​ខែមេសា ឆ្នាំ​២០១៣ ហើយ​រហូតមកដល់​ត្រឹម​ថ្ងៃទី​១៤ ខែធ្នូ ឆ្នាំ​២០១៤ ទទួលបាន​អ្នកគាំទ្រ ១​លាន​នាក់​។​
​ជាមួយនឹង​ការប្រកាស​ពី​ចំនួន​អ្នកគាំទ្រ​ហ្វេ​ស​ប៊ុ​ក លោក​សម រង្ស៊ី ក៏បាន​ប្រកាស​ឲ្យ​ប្រជាពលរដ្ឋ​ត្រៀមខ្លួន​ទិញ​ភាគហ៊ុន​ក្រុមហ៊ុន​ទូរទស្សន៍​របស់​គណបក្ស​សង្គ្រោះ​ជាតិ ដើម្បី​មាន​លុយ សម្រាប់​ដំណើរការ​នៅក្នុង​ពាក់កណ្តាល​ឆ្នាំ​២០១៥ ខាងមុខនេះ​។​
​លោក​បាន​បន្តថា អ្នក​ដែល​តាមដាន និង​គាំទ្រ​ហ្វេ​ស​ប៊ុ​ក​របស់លោក​មាន ១​លាន​នាក់ នៃ​អ្នក​ដែល​តាមដាន​ចង់ដឹង ចូលចិត្ត ព័ត៌មាន​នៅក្នុង​ហ្វេ​ស​ប៊ុ​កលោក ដោយ​មួយចំនួនធំ​ចេញ​មកពី​អ្នកគាំទ្រ​គណបក្ស​សង្គ្រោះ​ជាតិ ហើយ​ហ្វេ​ស​ប៊ុ​កមាន​សារៈសំខាន់ ជាពិសេស​យុវជន​ចូលចិត្ត ដើម្បី​ស្វែងរក​ព័ត៌មាន និង​ទំនាក់ទំនង​គ្នា​ផ្លាស់ប្តូរ​ព័ត៌មាន និង​មាន​លក្ខណៈ​សង្គម ដែលមាន​ប្រយោជន៍​សម្រាប់​សង្គមជាតិ​។ គណបក្ស​សង្គ្រោះ​ជាតិ យល់​ពី​សារៈសំខាន់​និង​សារៈប្រយោជន៍ នៃ​ហ្វេ​ស​ប៊ុ​ក ក្នុង​ការធ្វើ​នយោបាយ​បំផុសបំផុល​ចំណេះដឹង ការយល់ដឹង និង​បំផុសបំផុល​ទឹកចិត្ត​ប្រជាពលរដ្ឋ ជាពិសេស​យុវជន​ឲ្យ​ចូលរួម​ក្នុងការ​វិវត្តន៍​ផ្លូវ​ល្អ​របស់​សង្គម​។​
​ប្រធាន​គណបក្ស​សង្គ្រោះ​ជាតិ បាន​បន្តថា នៅក្នុង​ចំណោម​អ្នកគាំទ្រ​១​លាន​នាក់ គឺ​ស្មើ​៧១​ភាគរយ នៃ​អ្នក​ប្រើ​ហ្វេ​ស​ប៊ុ​ក​។​
​
ដោយ៖​ នួន បូរិន​ | ថ្ងៃអង្គារ ទី16 ធ្នូ 2014, 
​សភា​នីតិកម្ម​ប្រទេស​ថៃ​ដែល​កើតចេញ​ពី​ក្រុមប្រឹក្សា​យោធា មាន​គោលបំណង​កែប្រែ​រដ្ឋធម្មនុញ្ញ​ឆ្នាំ​២០០៧ ដោយ​ដាក់​ឲ្យមាន​ការបោះឆ្នោត​ជ្រើសរើស​នា​យក​រដ្ឋមន្ដ្រី​ដោយ​ផ្ទាល់​ពី​ប្រជាជន គឺ​មិន​ឲ្យ​នាយក​រដ្ឋមន្ដ្រី​កើតចេញពី​ការបោះឆ្នោត​ដូច​អាណត្តិ​មុន ខណៈ​ចែង​ពី​អាណត្តិនាយក​រដ្ឋមន្ត្រី​មាន​តែ២​អាណត្តិ ស្មើនឹង​៨​ឆ្នាំ ។​
​សំណើ​នេះ​មានន័យ​ថា តំណែង​នាយករដ្ឋមន្ដ្រី​ដែល​ជា​ប្រធាន​គណៈ​រដ្ឋមន្ដ្រី ត្រូវ​ជា​អង្គនីតិប្រតិបត្តិ​ដាច់ដោយឡែក​ពី​អង្គនីតិបញ្ញត្តិ ប៉ុន្តែ​តាមរយៈ​ការ​បោះឆ្នោត​ដូច​គ្នា និង​ពេល​តែមួយ ។​
​ប្រធាន​គណៈកម្មការ​ធិ​ការនី​តិក​ម្ម​សភា​ប្រទេស​ថៃ លោក ខ្លា​ណា​រ៉ុង​ចាន់ទី​ករី​យ៉ា មានប្រសាសន៍ថា លោក​គេ​ត្រូវ​បែងចែក​ដាច់​ពីគ្នា​រវាង​នីតិប្រតិបត្តិ និង​នីតិបញ្ញត្តិ​ហើយ​ថា គណៈរដ្ឋមន្ដ្រី​ទាំងអស់​មិន​ត្រូវ​ជា​បេក្ខជន​តំណាងរាស្ដ្រ ហើយ​នាយក​រដ្ឋ​ន្ត្រី​អាច​កាន់តំណែង​បានតែ​២​អាណត្តិ ឬ​រយៈពេល​៨​ឆ្នាំ​ដោយ​១​អាណត្តិ​មាន​រយៈពេល​៤​ឆ្នាំ ។​
​អនុប្រធាន​សភា​នីតិកម្ម​លោក សូ​រ៉ា​ចៃ បានឲ្យដឹង​ថា​សំណើ​នេះ ត្រូវបាន​ដាក់​សុំ​ការអនុម័ត​កាលពី​ថ្ងៃ​​ម្សិលមិញ ហើយ​នឹង​ត្រូវ​ធ្វើ​ការពិភាក្សា​នៅ​ពេល​ឆាប់ៗ​នេះ ។​
​តាម​លោក សូ​រ៉ា​ចៃ បេក្ខជន​នាយករដ្ឋមន្ត្រី​ត្រូវ​ទទួលបាន​សំឡេង​លើស​៥០​ភាគរយ ហើយបើ​មិនមាន​សំឡេង​គ្រាប់​គ្រាន់ គឺ​លទ្ធផល​នៃ​ការបោះឆ្នោត​ត្រូវ​ចាត់ទុកជាមោឃៈ ហើយ​ត្រូវ​បោះឆ្នោត​ជុំ​ទី​២ ។​
(ចុះ​ផ្សាយ​នៅ​ថ្ងៃ   
 16-12-2014, 
 2:55 pm) |  

ដោយ ធឿន បញ្ញាឬទិ្ធ
អនុប្រធាន​គណៈកម្មាកា​រ​ទី២នៃ​រដ្ឋសភា លោក សុន ឆ័យ នឹង​ដឹកនាំ​ក្រុមការងារ​ចុះទៅ​តំបន់​អង្គរ នៅ​ថ្ងៃទី២១-២២ធ្នូ​នេះ ដើម្បី​ត្រួតពិនិត្យ​ពី​ចំណូល​អង្គរ និង​បញ្ហា​ជាក់ស្ដែង​ដែល​បានកើត​ឡើង​នៅ​តំបន់​នោះ។ បើតាម​លោក សុន ឆ័យ ការត្រួតពិនិត្យ​ពី​ចំណូល​អង្គរ​នេះ មាន​ភាពមិន​ត្រឹមត្រូវ​នោះ លោក​នឹង​បន្ដ​យន្ដកា​រដាក់​ទៅ​តុលាការ ដើម្បី​ចាត់វិធានការ​លើ​បញ្ហា​នេះ។

លោក សុន ឆ័យ អនុប្រធាន​គណៈកម្មាកា​រ​ទី២នៃ​រដ្ឋសភា នឹង​ចុះទៅ​ជាមួយ​អាជ្ញាធរ​អ​ប្សា​រា និង​អាជ្ញាធរខេត្ត ដើម្បី​ត្រួតពិនិត្យ​ពី​ចំណូល​អង្គរ និង​បញ្ហា​ជាក់ស្ដែង​ដែល​បានកើត​ឡើង​នៅ​តំបន់​នោះ​ឲ្យ​បានច្បាស់លាស់។ បើតាម​លោក សុន ឆ័យ គោលបំណង​ចុះទៅ​នេះ​គឺ​លោក​ចង់​ពិនិត្យ​ជាក់ស្ដែង​ពី​តួនាទី​របស់​អាជ្ញាធរ​អប្សរា និង​បញ្ហា​ពាក់ព័ន្ធ​ប៉ះពាល់​ដល់​ប្រជាពលរដ្ឋ​កន្លងមក ដែល​លោក​ទទួលបាន​រួមមាន បញ្ហា​ហាមឃាត់​ប្រជាពលរដ្ឋ​មិន​ឲ្យ​សាងសង់​លំនៅដ្ឋាន​នៅ​ទីនោះ ការយក​ដី​ប្រជាពលរដ្ឋ​ទៅ​ឲ្យ​ក្រុមហ៊ុន ដំណើរការ​ជួសជុល​ប្រាសាទ និង​ការលក់​សំបុត្រ​នៅ​តំបន់​អង្គរ​ជាដើម។ លើសពីនេះ​លោក សុន ឆ័យ ក៍​នឹង​ជួប​ជាមួយ​អាជ្ញាធរខេត្ត ដើម្បី​ត្រួតពិនិត្យ​ពី​ការចាយវាយ​ថវិការ ការគ្រប់គ្រង​របស់​អា​ជ្ញា​ធរ​នៅ​តំបន់​នោះ និង​ការផ្លាស់ប្ដូរ​ទីតាំង​សាលាខេត្ត។

លោក​សុន​ឆ័យ​បន្ថែម៖«ការចុះ​ទៅនេះ​គឺ​យើង​ចង់​ត្រួតពិនិត្យ​ជាក់ស្ដែង​ពី​តួនាទី​អាជ្ញាធរ​អប្សរា និង​អាជ្ញាធរ​ក្រុង ព្រោះ​យើង​ចង់ដឹងថា​ពួកគេ​ធ្វើ​អ្វីខ្លះ​កន្លងមក។ ហើយ​ការត្រួតពិនិត្យ​នេះ ព្រោះ​មាន​ប្រជាពលរដ្ឋ​មួយចំនួន​បាន​ប្ដឹង​ថា មានការ​ហាមឃាត់​ពី​អាជ្ញាធរ​មិន​ឲ្យ​សាងសង​លំនៅដ្ឋាន​នៅ​ទីនោះ យក​ពី​ប្រជា​ពល​ទៅ​ឲ​ក​យ​ក្រុមហ៊ុន​សាងសង ពី​ការជួសជុល​ប្រាសាទ​ដំណើរការ​ដល់​ណា ជាពិសេស​ការលក់​សំបុត្រ​នៅ​តំបន់​អង្គរ​នេះ ។ តើ​មាន​លក់​សំបុត្រ​នេះ ទទួលបាន​ចំណូល​យ៉ាងម៉េច​ដែរ?»។